FAITHFUL PARTNER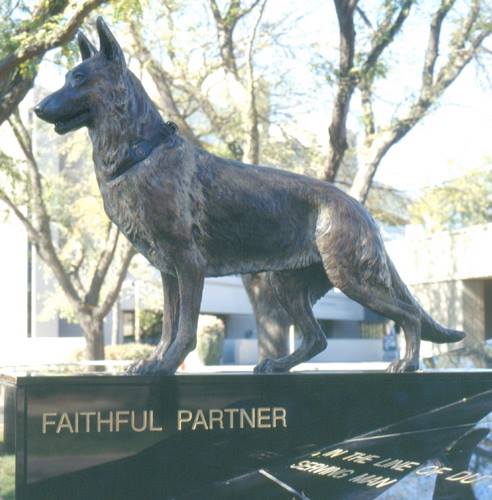 The California K-9 Law Enforcement Memorial
The California law enforcement dog was given major recognition on October 6, 2002, when Faithful Partner, a life-sized bronze German shepherd police dog atop a seven-pointed granite sheriff's star, was unveiled and dedicated at UC Davis in Sacramento, California to memorialize the state's fallen canine heroes.
Memorial
38″ High x 10″ Wide x 55″ Deep
Edition: Commissioned
Life-size Edition: 5
A similar sculpture to Faithful Partner, but without the collar, is available for public purchase, in an Edition of 9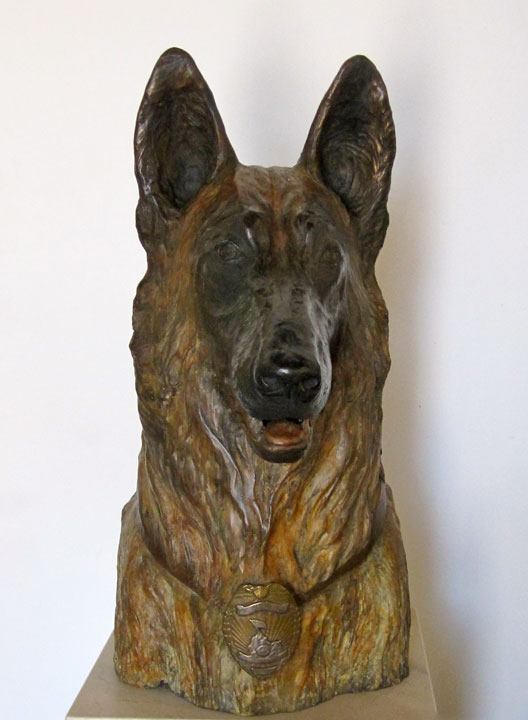 Life-size Head Study
Available in Bronze, Acrylic or Resin
19″ H x 8″ W x 16″ D
Customized Badge and Collar Available
Edition: 25 in each medium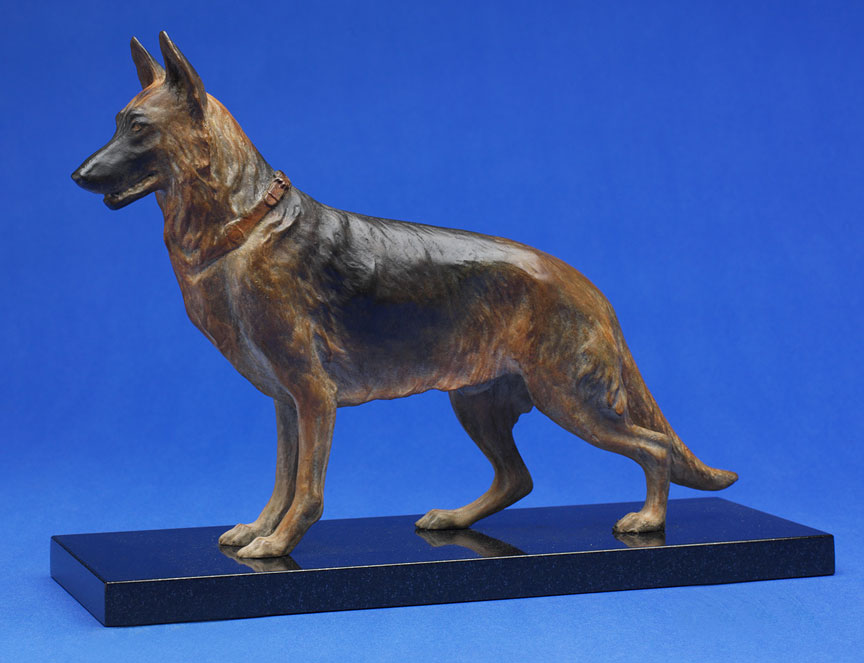 Table-top Bronze on Granite Base. Edition of 450. 11″ H x 5″ W x 14½" L.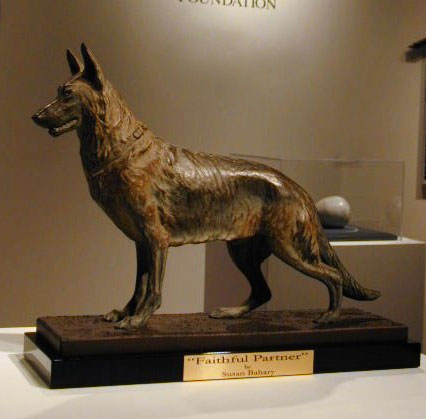 Also available in cold cast resin with bronze finish on acrylic base
Bahary Sculpture Featured in the Major Motion Picture "MAX"
Susan Bahary is honored to present "FAITHFUL PARTNER": A casting was specially created for the NEW WAR DOG movie, "MAX", (MGM/Warner Bros), a great movie that brings attention to our heroic military working dogs and their handlers. Here is a link to the very touching trailer
Smaller versions of this sculpture are available for purchase in resin and bronze.
Always Faithful, created the work, and California Attorney General Bill Lockyer gave the keynote speech. The opening procession of the Faithful Partner dedication ceremony included bagpipers playing taps, a color guard and some 150 police officer and sheriffs and their canine partners, called "K-9s." a few of the K-9s began to moan and bark with the bagpipes, and continued to comment throughout the event. The sculptures a life-size bronze likeness of a German shepherd police dog in alert stance, stands atop a massive seven-pointed sheriff's star in black granite.
The names of 23 fallen California K-9s are engraved on plaques set into the sculpture's base, including Rudy, who was stabbed at a traffic stop in Oxnard , California after a suspect threatened an officer. Prior to reading the 23 names, West Sacramento Police Officer Deanna Stevens said, &There is no greater, darker, deafening sound than, after the loss of a K-9 partner, climbing back in a patrol car and hearing only silence.
Emotions ran high as Vallejo officers, remembering their fallen K-9, Rondo, who was stabbed to death in 1997, also paid tribute to Rondo's handler, officer Jeff Azuar. Bahary commented later, "Except to law enforcement and military professionals, it is a little-known fact that the deep bond between service dogs and their handlers have caused thousands upon thousands of dogs to give their lives protecting their human partners. Although the 9/11 tragedy brought into sharp focus the extraordinary yet unassuming heroism of all public safety personnel, including their four-legged counterparts, public monuments such as this will continue to remind us of the devotion and sacrifice of these fallen heroes." As more California K-9s die in the line of duty, their names will be added to the Faithful Partner plaques, and the work will stand permanent guard in front of the UC Davis School of Veterinary Medicine to help raise awareness of 15,000 K-9s across the United States, including bomb- and drug-sniffing dogs.
The anonymous donor who commissioned Bahary to create Faithful Partner knew of Always Faithful, Bahary's earlier work memorializing the World War II war dog. Permanently installed at the War Dog Cemetery on the U.S. Naval Base in Guam, Always Faithful was commissioned by the United Doberman Club and the late Dr. Robert Putney. Dr. Putney, a WWII war dog platoon commander, had wanted to create a &place of honor& for his fallen heroes. At its unveiling at the Pentagon and during its installation at the War Dog Cemetery, Always Faithful was featured on CNN and in hundreds of the other media. Replicas of the work, a life-size Doberman Pinscher in bronze, have since been dedicated and installed at the University of Tennessee and at The Alfred M. Gray Marine Corp Research Center – the Marine Corps university and conference center – in Quantico, Virginia. Always Faithful continues to be featured in major media, most recently on the Discovery Channel and Fox News. As a former breeder of champion dogs, Bahary is quite familiar with the challenges of working with the canine set, and is well suited to sculpt their monuments. She worked with two German Shepherds, Kiwi, 7, and Boomer, 8, to create Faithful Partner.