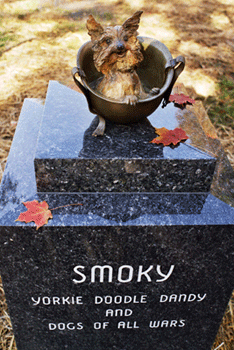 SMOKY
A four-pound Yorkshire Terrier became an "Unofficial War Dog" in WWII after transporting a communication cable under an air strip through a drain pipe. This act saved days of labor and safeguarded 40 US warplanes. Smoky is considered the first therapy dog of record and spent her final years in the Cleveland Ohio area.
Dedicated on Veteran's Day November 11, 2005 at Memorial Field on Valley Parkway in the Rocky River Reservation in Lakewood Ohio. In addition to being Smoky's owner/trainer, former Army/Air Force Cpl. William A. Wynne (WWII) worked as a research photographer for NACA/NASA and is an award winning photojournalist. Photos by Bill Wynne and friends. www.smokywardog.com. The sculpture of SMOKY was created by artist Susan Bahary.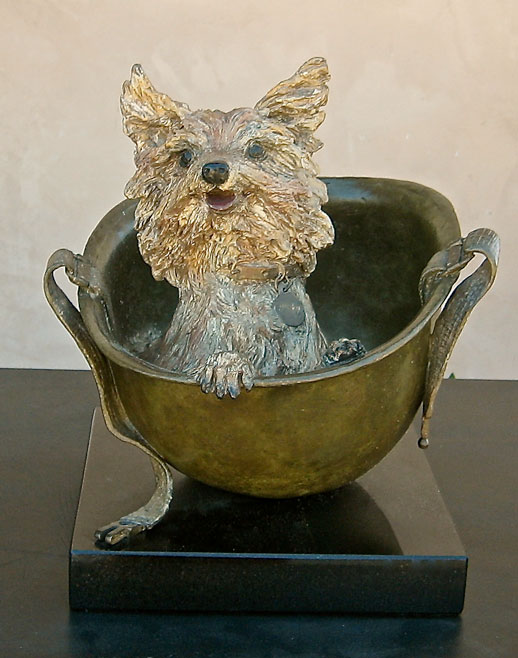 SMOKY – Cleveland, Ohio-Veteran's Day, November 11, 2005-Flags were flying, snapping in the wind. The mournful sound of bagpipes filled the air. Honor guards bore arms, marched, saluted and stood at attention. Speeches were made. The crowd stood still, hats in hand and hands on chests as Taps was played. Twenty-one rounds were fired in the time-honored salute.
The scene was replayed again and again all day long, all across America and wherever American troops are stationed, but this tribute was different from all the rest. The "veterans" being honored this day in Cleveland Metroparks, Rocky River Reservation, were not only human but also canine. A crowd of 400 people and at least 50 dogs attended the unveiling and dedication ceremony of theSmoky and Dogs of All Wars memorial. The bronze life-size sculpture of Smoky sitting in a GI helmet, on a blue, two-ton granite base, was dedicated to "Smoky, the Yorkie Doodle Dandy, and Dogs of All Wars.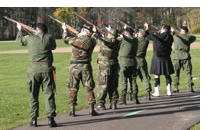 The most famous dog of WWII, Smoky was a four-pound Yorkshire terrier. Nearby, a colorful information plaque listed other famous war dogs, Stubby, Nemo, Caesar and Chips, as well as Smoky. Smoky, who was found in an abandoned foxhole in the jungles of New Guinea, came to be owned and trained by William A. Wynne, a photo specialist in the Army Air Corps. Wynne trained Smoky to do several hundred tricks, took her to visit wounded and sick troops in hospitals and carried her alon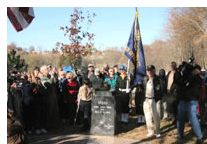 g on 12 air rescue missions. Smoky joined the ranks of "war dog hero" when she pulled a line through a 70-foot culvert, enabling vital communications lines to be run under newly captured air taxiways, thus saving the many war planes stationed there from exposure to enemy fire and near-certain destruction.
After the war, Smoky continued to entertain troops and civilians alike. Smoky died in 1957 at 14. In 1996, Wynne wrote Yorkie Doodle Dandy, a Memoir, which continues to be a popular seller today. The War Dog memorial fulfills Wynne's deca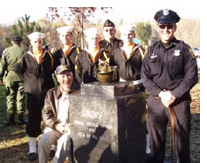 des-long dream and immortalizes a very special little dog, who was not only a famous "war dog" but also the "first therapy dog of record," according to researchers at TV's Animal Planet. The Yorkshire Terrier breed has grown in popularity since Smoky was found in New Guinea. Only 65 Yorkies were registered with the AKC that entire year. Now, approximately 5,000 a month are registered.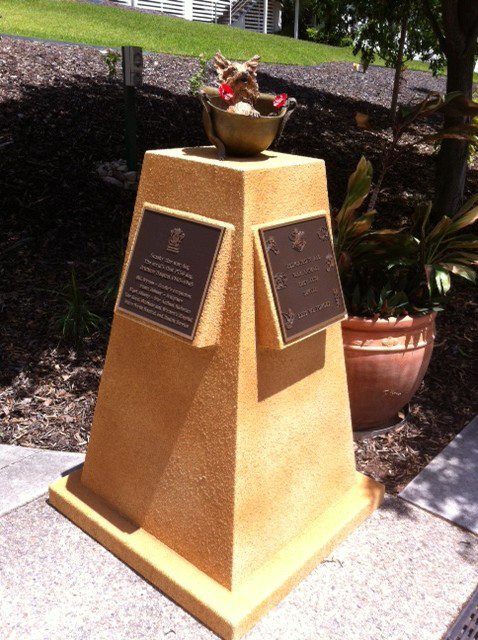 Royal Brisbane and Women's Hospital, Queensland