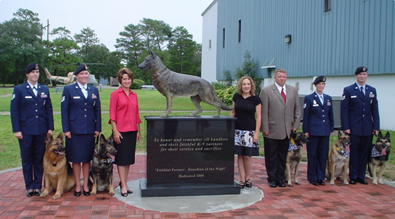 WORKING DOG MEMORIAL
The Working Dog Monument dedication at Eglin Air Force Base to Honor Working Dogs and Handlers. The general public is sometimes unaware of the service of dogs in the military.. Among service-members, however, it's a different story. Deep bonds form between the "K9s," as they are called, and their handlers. Yet, military K9s, unless adopted, were until 2000 euthanized when their tours of duty were over, and four-footed soldiers still cannot be honored with a Purple Heart or other award. That's beginning to change…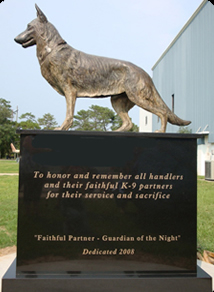 Monuments are being raised and tributes to military working dogs are being held. On August 1st at Eglin Air Force Base in Ft. Walton Beach, Florida, Faithful Partner-Guardian of the Night, a K9 memorial sculpture by acclaimed monument sculptress Susan Bahary, was be dedicated and installed as part of a formal tribute to all working dogs and their handlers, past and present.
The event, The Working Dog Monument Dedication, was held at Eglin's Air Force Armament Museum . This formal military ceremony also honored dogs that have retired this year from Eglin and the local base, Hurlbert Field.
Not only can military K9s not receive medals, they also must serve out their enlistment, if able. When Marine Cpl. Dustin Jerome Lee, was killed in Iraq on March 21, 2007, the Lee family wanted to adopt Dustin's K9, Lex, a German shepherd, but Lex still had two years to serve. With the intervention of a North Carolina congressman, a precedent-setting permission for Lex's honorable discharge and release to the Lee family was granted. Lex was presented a commemorative Purple Heart by The Military Order of the Purple Heart Chapter 566 in an emotional Working Dog and Fallen Handler Tribute held in February 2008.
Special guests at an earlier ceremony to unveil the bronze included the Lee family and Lex. On August 1st ,dog teams representing the U.S. Armed Services and Civilian Police were in attendance as were families of other fallen K9 Handlers.
Kelly Hooker, a home-schooling mom, and former Staff Sgt. Rickey Hooker (ret.), along with Kennel Master Michele Stringert at Eglin and Chapter 566 of the Military Order of the Purple Heart, initiated and worked tirelessly on the organizing and fund-raising for the tribute and monument dedication. The Hookers, professional dog trainers, also are adoptive K9 "parents." They adopted Jacco, who served in Iraq with Rickey, after Jacco's enlistment ended.
Bahary's Faithful Partner-Guardian of the Night, a life-size German shepherd in bronze, will be installed on a granite base at the Eglin site. Future plans include a granite dedication wall, inset with a stained glass American flag, to be erected behind the sculpture. During the day, the flag image from the stained-glass "window" will fall on the monument, moving across it as the sun transits the sky.